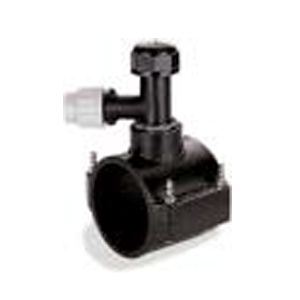 Plasson Mechanical Tapping Tee for PE/PVC 16540
The Plasson Mechanical Self-Tapping Swivel Tee is a simple, but effective fittings for branch connections from a live mains pipe (63mm - 180mm), to 25mm or 32mm supply pipes, the Tapper is suitable for use on metric PE and metric PVC mains pipe.
Key Features:
Can be used on a live, pressurised mains pipe.
Suitable for PE and uPVC/MoPVC.
Outlet can be pointed in required direction before final tightening.
Large footprint on mains pipe protects PVC from splitting and saddle migration.
Stainless steel bolts ensures long service life.
Easy to fit.
Minimal headloss.
Can be used as a temporary shut off.