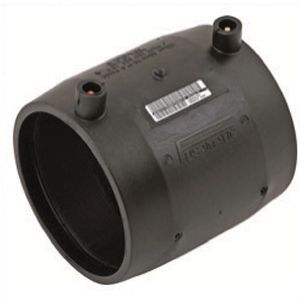 Electrofusion Water Coupler
16-bar rated
39.5v
4.0mm pins
Manufactured in accordance with BS EN12201 for potable water
Designed specifically for ease of assembly, our electrofusion water coupler ensures optimum efficiency throughout the welding process – allowing you to connect pipes and fittings reliably.
Electrofusion water couplers are manufactured to BS EN 12201 for potable water applications and renowned for their long system life. The black electrofusion coupler offers a high-performance solution for jointing and ensures water-based projects are completed efficiently.
Features of Electrofusion Water Coupler:
Our electrofusion water coupler is manufactured to the highest quality and is rated to 16-bar pressure. It comes with 4mm pin connectors that provide a secure fit between pipe ends and fittings, preventing damage.
The electrofusion coupler is modular and eliminates the risk of leaks throughout the welding process.
Our electrofusion water coupler is supplied in a range of diameters, including:
20mm fitting
25mm fitting
32mm fitting
40mm fitting
50mm fitting
63mm fitting
75mm fitting
90mm fitting
110mm fitting
125mm fitting
140mm fitting
160mm fitting
180mm fitting
200mm fitting
225mm fitting
250mm fitting
280mm fitting
315mm fitting
355mm fitting
400mm fitting
The electrofusion coupler is designed with your jointing requirements in mind and we keep our prices competitive, here at Total Pipes, to ensure you receive the best value for your money.
Order an electrofusion water coupler today and benefit from our affordable products and quick delivery service.